Anticipating patient flows
OPTIMIZING COORDINATION WITHIN A HOSPITAL, THANKS TO ARTIFICIAL INTELLIGENCE
Hospitals are currently facing issues in terms of cost, efficiency, stress and quality. Often, inappropriate use of human or material resources leads to a lack of efficiency in daily operations. This has consequences on the quality of care, causes undesirable patient returns, increases the cost of technical materials and delays the length of stays. The decrease in quality of work life also explains more absenteeism among caregivers.
The situation becomes increasingly complicated to manage: too many unplanned activities, a rapidly changing context, frequent activity peaks, stress on human resources, non-optimal use of resources, higher costs, siloed information systems and a vast volume of untapped data…
The result is costly and avoidable. Exhaustion of medical and paramedical teams sometimes leads to human error. Uncoordinated use of resources brings congestion and wait times. Incomplete knowledge-based analyses limit the scope of actions or create savings without any impact. Not to mention the feeling of the medical staff, which spends too much time behind a screen and has to fill in more and more forms.
The CALYPS Saniia solution in 4 modules
CALYPS Saniia is an advanced Artificial Intelligence. It learns from the reality captured by real-time data collection, anticipates unforeseen events, forecasts the resulting activities (and their duration), prescribes the best possible allocation of resources and produces a schedule that keeps uncertainty to a minimum.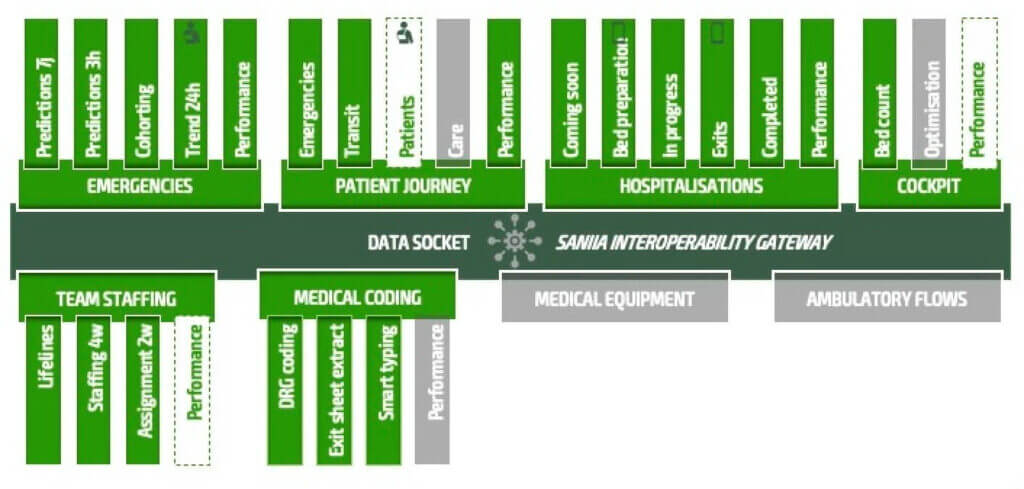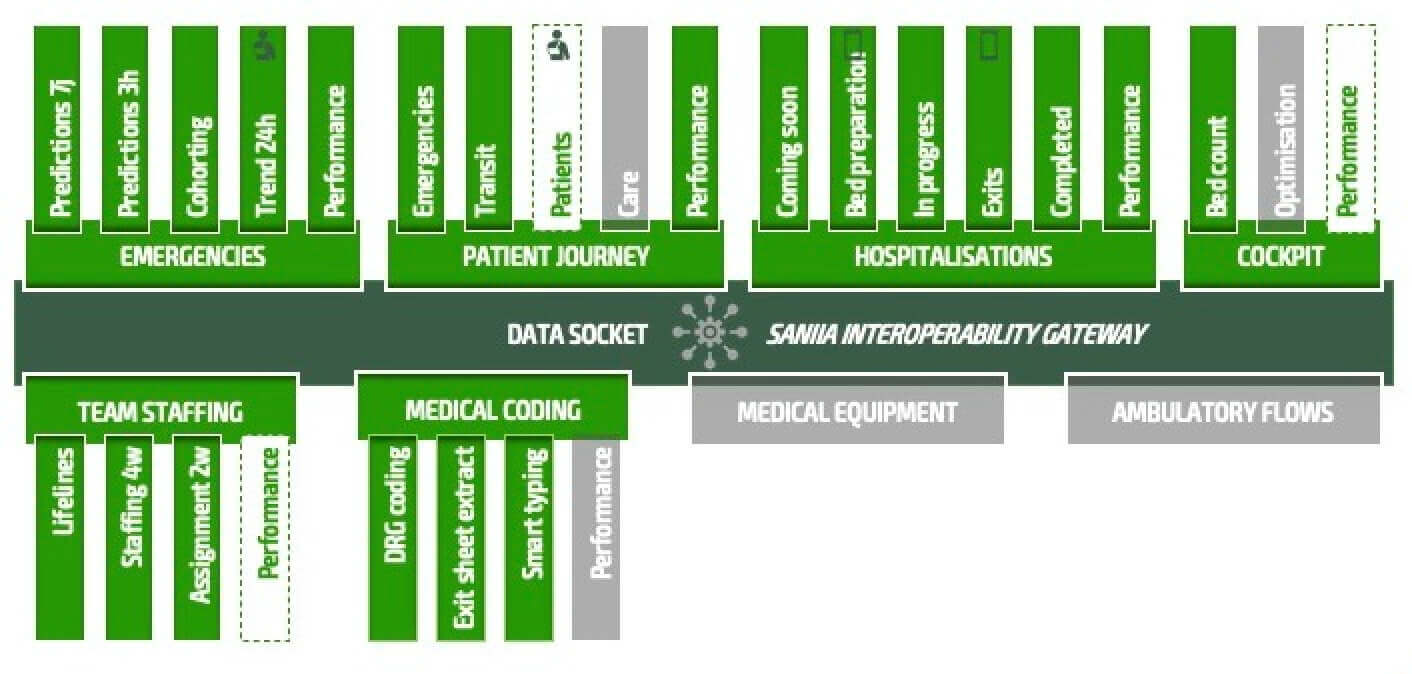 The CALYPS Saniia solution does more than just data processing. It drastically reduces the problem of human capacity to digest information. Thanks to artificial intelligence, the hospital suffers less: it anticipates and prepares its resources to best respond to pressure, while smoothing the patient's journey and limiting the stress of the medical staff. Physicians, hospital management or IT department are satisfied with the value provided by CALYPS Saniia, according to their positive testimonials.
Operations are significantly improved with the planning provided by CALYPS Saniia. AI helps to achieve high efficiency gains and quality work under better conditions. The result is an optimized use of resources, more cost-effective departments and ultimately an improved patient care.
This 3 min video explains the benefits of data science applied to healthcare, with the CALYPS Saniia solution implemented at Valenciennes General Hospital since 2019 :